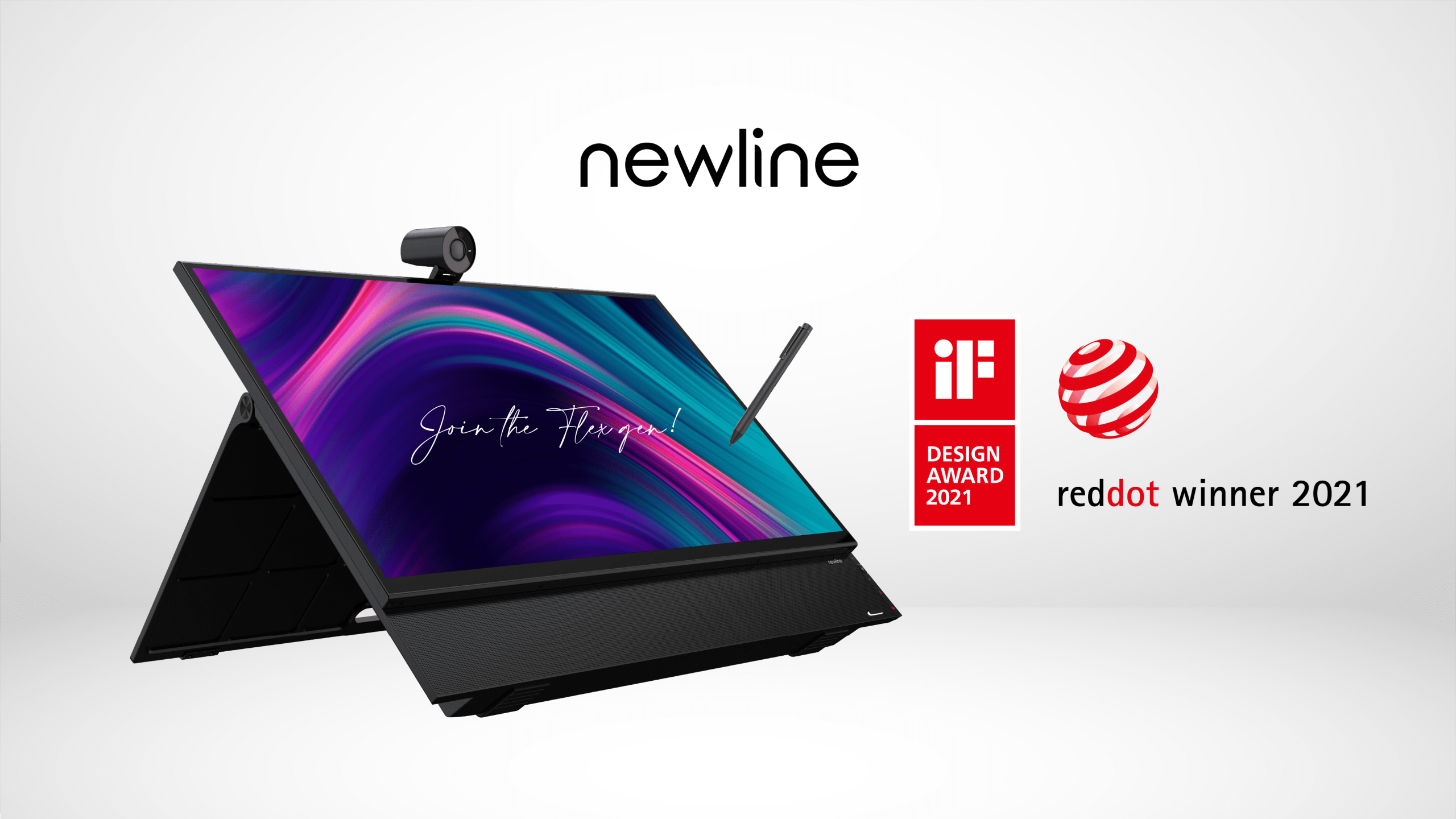 Allen, TX (April 27, 2021) – Newline has won this year's iF DESIGN AWARD, a world-renowned design prize. The winning product, Flex, won in the Product Discipline, 1.11 Office Category. Each year, the world's oldest independent design organization, iF International Forum Design GmbH, organizes the iF DESIGN AWARD.
Flex won over the 98-member jury, made up of independent experts from all over the world, with its unique design solution for desktop collaboration. The competition was intense: almost 10,000 entries were submitted from 52 countries in hopes of receiving the seal of quality.
More about Flex can be found in the "Winners" section of the iF WORLD DESIGN GUIDE. 
Let's not forget that Newline has recently been successful also in the Red Dot Award category "Product Design 2021". The international jury has awarded Newline Flex the distinction "Red Dot", which stands for high design quality.
"As the name suggests, Newline Flex is a unique solution with flexible features and can be flexible enough to fit any market. Flex was purposely designed to meet the needs of the ever-changing work environment." Chris Bradford, President of Newline Interactive
Flex is a versatile all-in-one 27" touch monitor designed to facilitate desktop collaboration. The designer has focussed on several ergonomic topics. The screen aligns with your eye level and the natural 10° tilt provides a comfortable viewing angle compared to a regular monitor.
The 4K camera with facial recognition can be tilted and turned to ensure a convenient position for the user. The microphone picks up voice very well, so no need to raise one's voice or move closer to the mic. Existing devices as a laptop or computer can be connected to Flex. Flex truly has the potential to revolutionize the way we work.
Flex can also tilt up to 45° which allows the user to place their palm on the screen and annotate in a natural writing position with the active pen.
About Newline
Headquartered in Allen, Texas, Newline Interactive is a leading supplier of interactive touch screens and innovative software that increases productivity and enables collaboration. Newline Interactive develops products that help organizations in a wide range of vertical markets including financial services, education, healthcare, law enforcement, manufacturing, municipalities, and legal services.
About the iF DESIGN AWARD
Since 1954, the iF DESIGN AWARD has been recognized as an arbiter of quality for exceptional design. The iF label is renowned worldwide for outstanding design services, and the iF DESIGN AWARD is one of the most important design prizes in the world. Submissions are awarded in the following disciplines: Product, Packaging, Communication and Service Design, Architecture and Interior Architecture as well as UI/UX and Professional Concept. All awarded entries are featured on the iF WORLD DESIGN GUIDE and in the iF design app.