With remote learning, it becomes difficult to assess students' continuous learning. Formative assessment helps when there is constant feedback and guidance to students.
One of the key features of whiteboard.chat is the ability of teachers to observer, monitor and provide constant feedback to students in real time.
As the students are progressing in the lessons, the teacher can see which parts of the work they are doing well, where they need help.
Joining the student on their board
The teacher can join the student on their individual or group board and work with them 1:1 at any time, guide them and give them feedback. This ease of formative assessment helps the teacher to customize the lessons on the learners abilities and understanding.
Student feedback tools
There are a lot of ways for the student to give feedback to the teachers. They can raise their hand as shown below in the screenshot.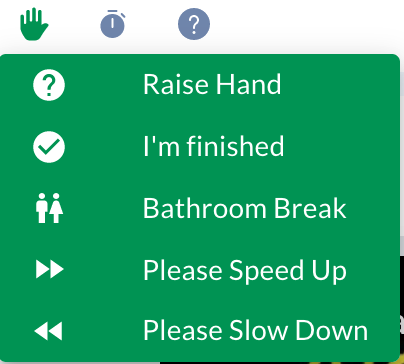 This tells the teacher in chronological order who raised their hand when. If the teacher clicks on the notification, they are taken to the student's page where they need help.
The teacher can put a stop light on the page. The student's can then click the color and the teacher can easily get a pulse of the class by looking at the grid view.
Of course there is always the chat part. This allows the student to chat only with the teacher and in IN THEIR OWN LANGUAGE.
As a teacher you can always create forms for exit tickets and get results back.
The possibilities are endless with whiteboard.chat's formative assessment features.
You can take a look at our Getting Started with Whiteboard.Chat guide to create your first board!