Open, display and manipulate PDF, URL, DOCX, PPTX, XLSX, all video and picture files.

Markup and native inking​
Insert ink natively into many common files, including Office documents.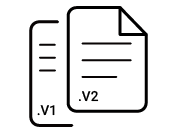 Automatically tracks date/time and generates new document revisions.

Cast content on up to three additional displays.

Open any video, resize it, zoom in or out, and manage playback instantly. Even annotate on the video and save scenes with the timestamp.


Arrange and compare files
Easily arrange and compare any number of documents, files, and videos side by side instantly.