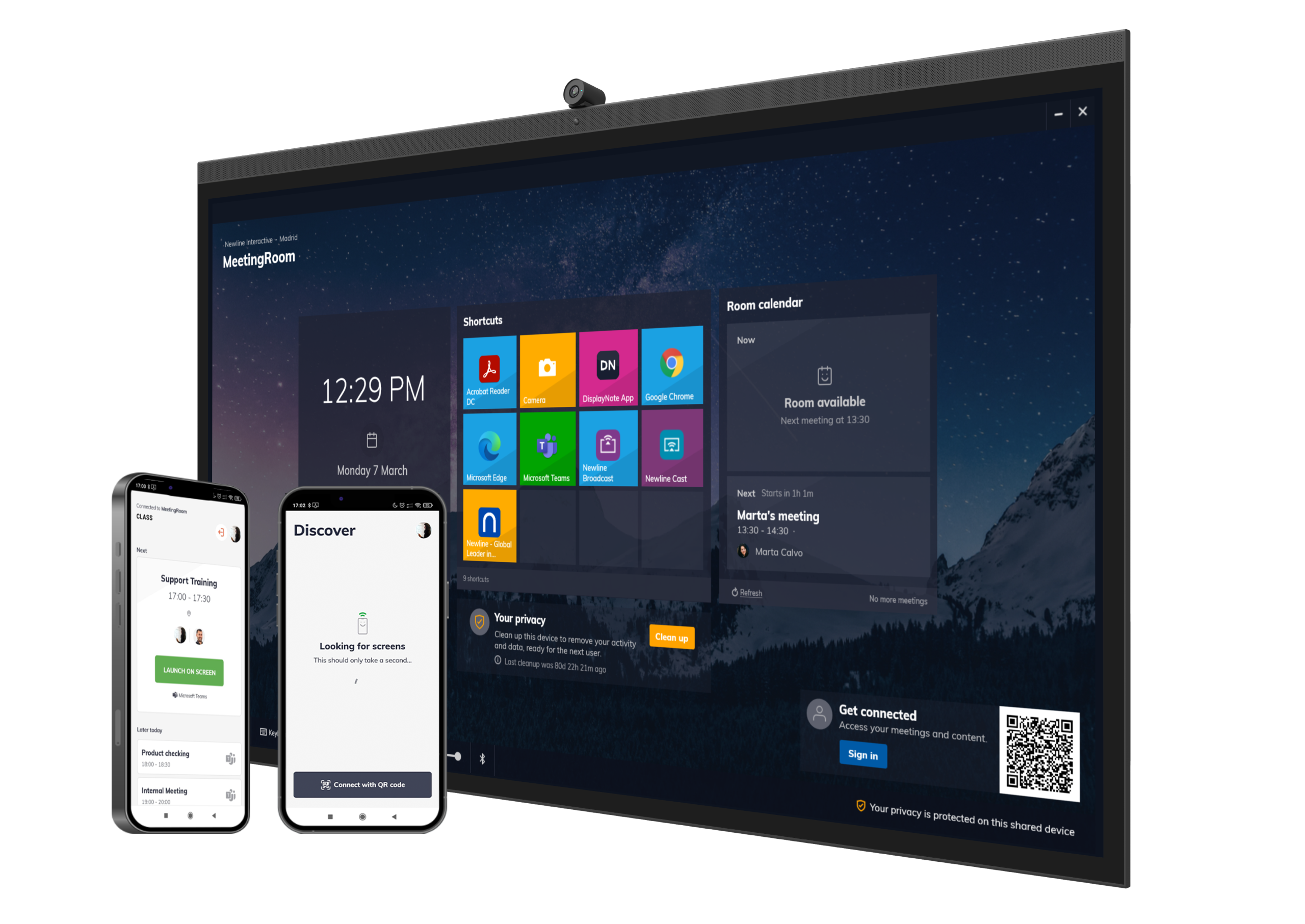 The Newline ecosystem offers a comprehensive solution that includes Launch Control, an innovative software designed specifically for corporate use, enabling efficient and secure management of agendas and meetings. With just a simple touch, Launch Control streamlines your workflow and enhances productivity. It seamlessly integrates with various devices, allowing you to leverage the software of your preference. Whether you rely on Skype for Business, Microsoft Teams, Zoom, or other popular platforms, Launch Control seamlessly integrates with them all.
Experience the convenience of accessing approved applications, checking meeting room calendars, and initiating video conferences with just a single button press, all within a completely secure interface. Your network and confidential data are always safeguarded, ensuring the utmost privacy and protection.
Launch Control empowers you to customize your calendar according to your needs. Display all your scheduled meetings effortlessly and tailor the room name, company name, and other essential configuration information to match your preferences. Seamlessly access your personal Office 365 account, along with its full range of functionalities, directly from the Newline software. Additionally, take advantage of the screen locking feature in kiosk mode and select your favourite applications for quick and easy access, further enhancing your productivity.
On a single screen, Launch Control provides an intuitive and user-friendly interface that enables you to effortlessly manage time and dates, room and personal meeting calendars, and access to approved applications. The simplicity and ease of use make it accessible to any user, eliminating the need for prior training or extensive onboarding.
One of the key advantages of Launch Control is its ability to be easily deployed on in-room PCs or OPS, providing a versatile solution for various setups and environments. Moreover, Launch Control introduces an exciting QR code feature that allows guests or staff to gain access to their OneDrive and present presentations directly from the panel. This eliminates the need to connect their personal PC to the panel, offering a seamless and efficient presentation experience.
The convenience of Launch Control doesn't end there – it offers a host of remarkable features. Notably, it is free for Elara, Naos IP, and Vega devices, making it an accessible and cost-effective solution for your organization.
Experience the next level of agenda and meeting management with Launch Control, where efficiency and security meet intuitive design.