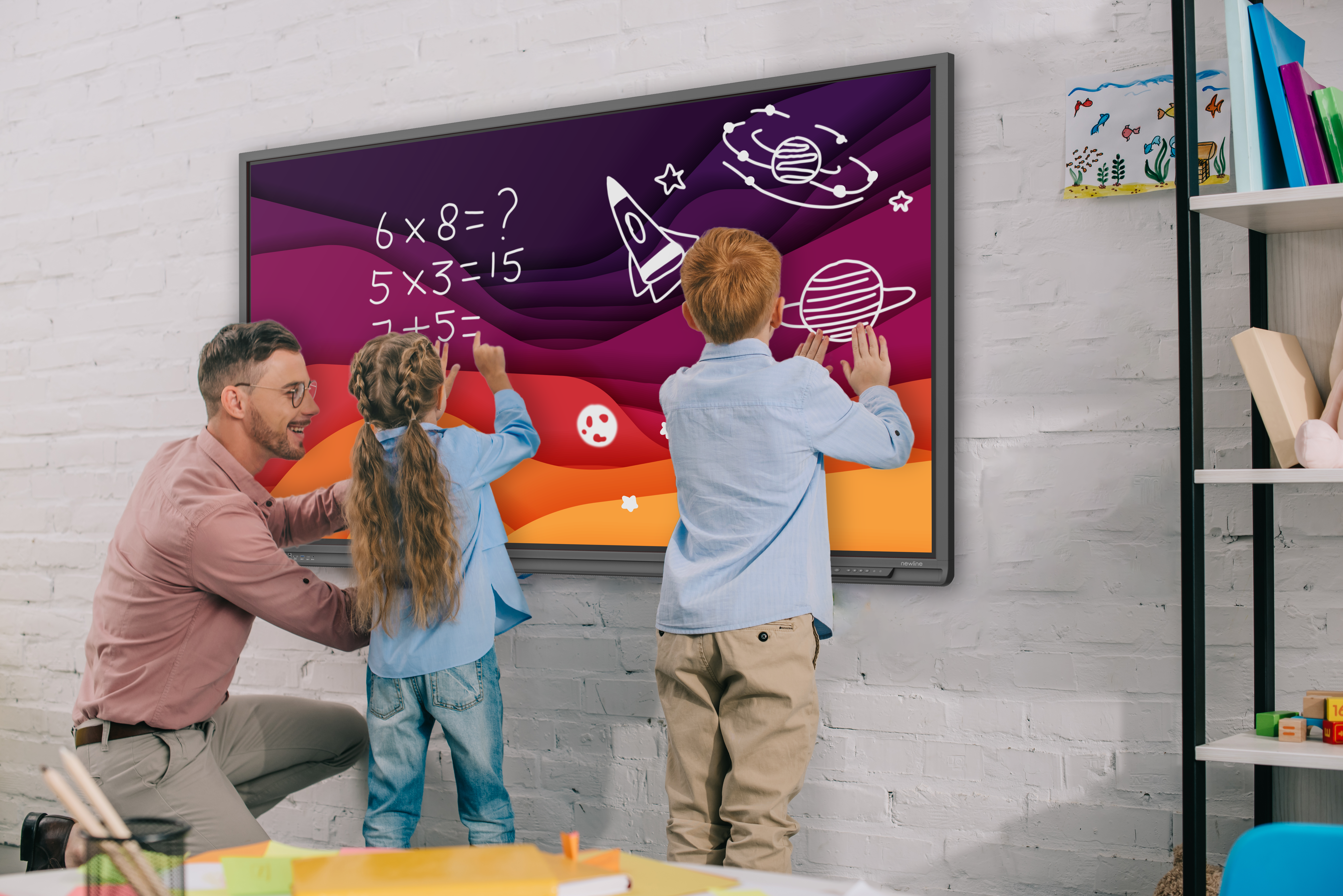 Touch monitors have become an integral part of modern education. As technology has evolved, they have become a vital component of the classroom, allowing teachers to present multimedia content and encourage students to participate in interactive activities.
The use of screens in education has a long history. As early as the 1970s, when televisions and VCRs entered classrooms, screens were used for educational purposes. Nowadays, screens are much more advanced and offer a wide range of functions that can enhance teaching. The use of interactive whiteboards and interactive displays that can be operated with digital pens has proven to be especially useful, as it allows teachers to create dynamic and immersive learning environments.
The growing popularity of online learning platforms has also increased the demand for monitors in education. Many schools use laptops and tablets to help students access digital learning materials. Overall, screens have acquired great importance in education and will continue to play a significant role in the future. As technology evolves, screens become more powerful and offer new opportunities for teaching and learning.
The Lyra series by Newline is a powerful solution for next-generation classrooms and meeting rooms, offering even greater security with the new integrated Android 11 operating system. In addition to an Ultra-HD resolution of 3840×2160 pixels and a brightness of 400 cd/m², the Newline LYRA display naturally offers numerous other features worth knowing.
The Lyra monitor is available in 5 different sizes, from a compact 55″ to an impressive 98″ behemoth, via 65″, 75″ and 86″ models. Whatever your needs may be, there's a perfect fit for every environment. Among its many features, the Lyra series boasts a level 7H tempered glass surface, making it ideal for busy classrooms and training rooms that experience high user traffic. The robust tempered glass ensures durability and reliability, even with daily intense usage. Whether you're using the Newline digital pen, your finger, or your whole hand, the seamless integration of Windows Ink unleashes the full potential of this interactive display, allowing you to effortlessly write, draw, and annotate with precision and ease.
In addition to the antimicrobial tempered glass, the touchscreen also offers an anti-reflective and anti-fingerprint coating. Furthermore, the integrated blue light filter allows you to work on the monitor in a healthier and less tiring way. With Wi-Fi 6, Bluetooth 5.0, two speakers, and an integrated media player, this Newline LYRA series touchscreen already has all the necessary tools for complete communication and collaboration.
The software packages already included in the Newline LYRA series supply cover the most essential requirements for interactive classrooms and training rooms, helping you prepare and optimally design your class, training, or even the next meeting. Specifically, the following functional tools from Newline are supplied with the Newline touchscreen: Whiteboard, Cast, Broadcast, App-Store, ClassroomTools, as well as Engage (with prior registration) as permanent licenses. The Display Management tool is also included with a 3-year license.