Engage Students with Interactive Learning via the Cloud


Unleash your creativity! Craft, allocate, and personally conduct student-focused sessions on interactive boards.
Seamlessly upload extensive PDFs and watch as tailored workbooks take shape effortlessly. Collaborate with a group on a singular board, opening the door to limitless possibilities.

100% Cloud Based
Harness the power of the cloud to reach your Whiteboards, no matter where or when.

Teacher Mode
Empowering users to assign boards and take full control over every aspect of their whiteboard sessions in Teacher Mode.

Single Sign-On
Single Sign-On with Google & Microsoft through Newline Engage Cloud.

Device Agnostic
Newline Engage Cloud works both on your Newline panel and across devices.

Google & Microsoft Integration
Newline Engage Cloud integrates smoothly with Google and Microsoft applications.

Digitized Widgets
Hundreds of digitized visual aids for math, language, science, art and more.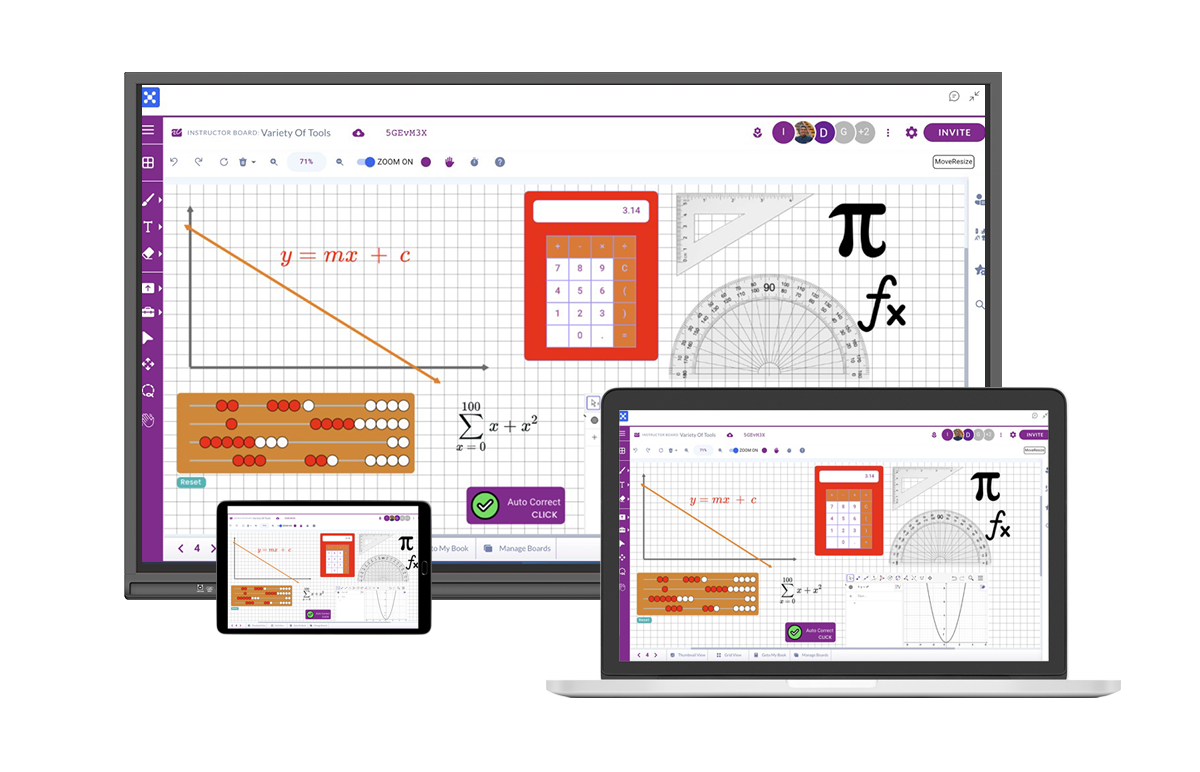 Access Your Whiteboard Anytime, Anywhere
Introducing Newline Engage Cloud, the dynamic online interactive whiteboard powered by the cloud. Embracing device diversity, Newline Engage Cloud seamlessly operates on Newline displays, tablets, Chromebooks, mobile phones, and beyond.
Seamless Integration for Ultimate Collaboration
Connect Newline Engage Cloud with Google Classroom, Drive, and Microsoft Teams for superior communication. Elevate note-taking, drawing, and interactive learning with Microsoft OneNote features and Newline's innovative tools.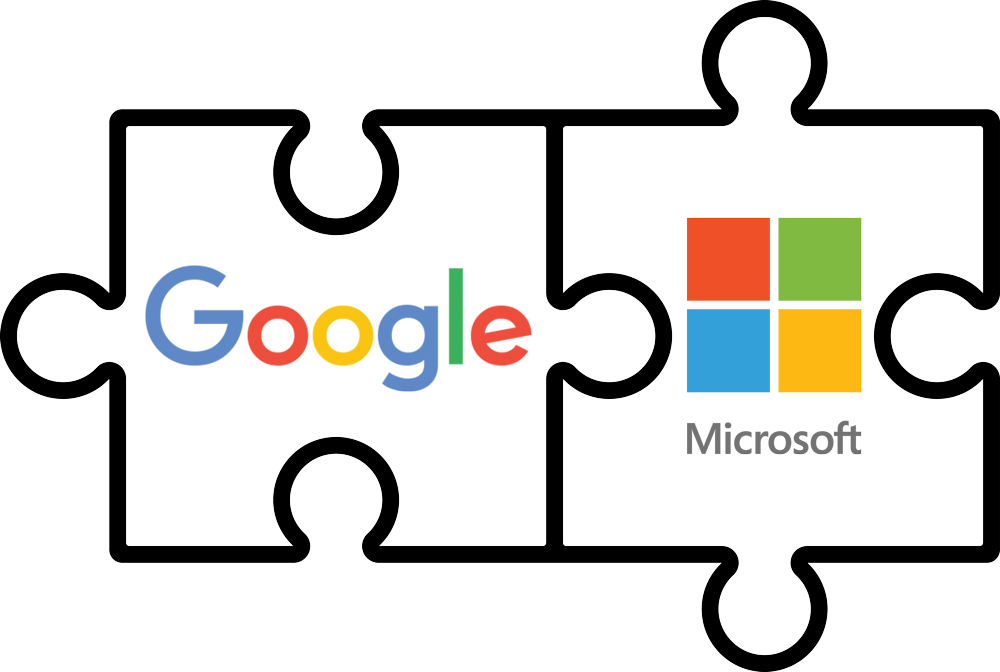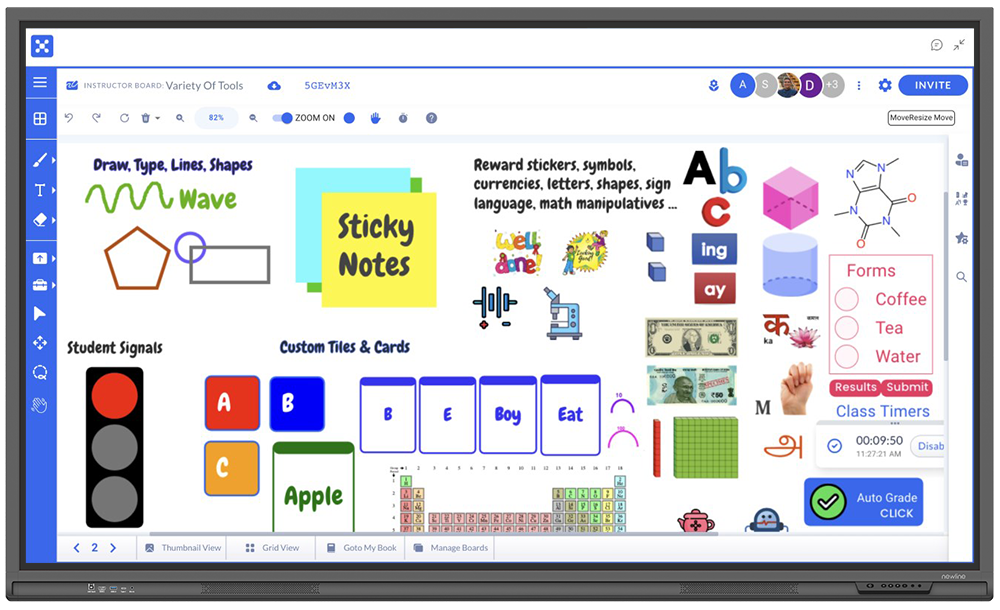 Visual Aids & Interactive Widgets
Dive into a wealth of digitized visual aids covering math, language, science, art, and beyond with Newline Engage Cloud. Open the doors to truly inclusive learning resources. Dynamic widgets take learning to new heights, fostering interactivity and collaboration, whether in-person or virtually.
Active Student Engagement within Teacher Mode
Shaped by Educators' Insights, Newline Engage Cloud introduces a host of classroom management tools and teaching features unmatched in other whiteboards. In crafting a class board, every student receives their personal copy, cultivating a unique interactive space. As students engage with individual boards, teachers gain real-time oversight over their progress, ensuring a secure and private environment. Collaboration is fortified, as students remain unaware of others' boards. Dynamic class boards can be prepped in advance or composed spontaneously in live sessions, accommodating versatile teaching approaches. Whether during or after class, students have the liberty to refine their boards, with teachers maintaining constant oversight – even when students aren't online.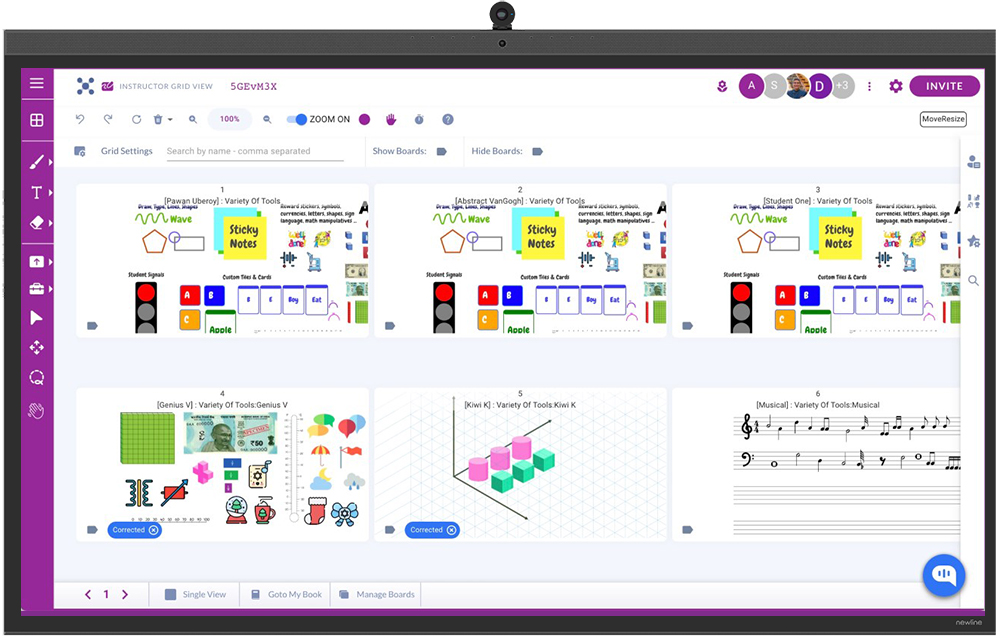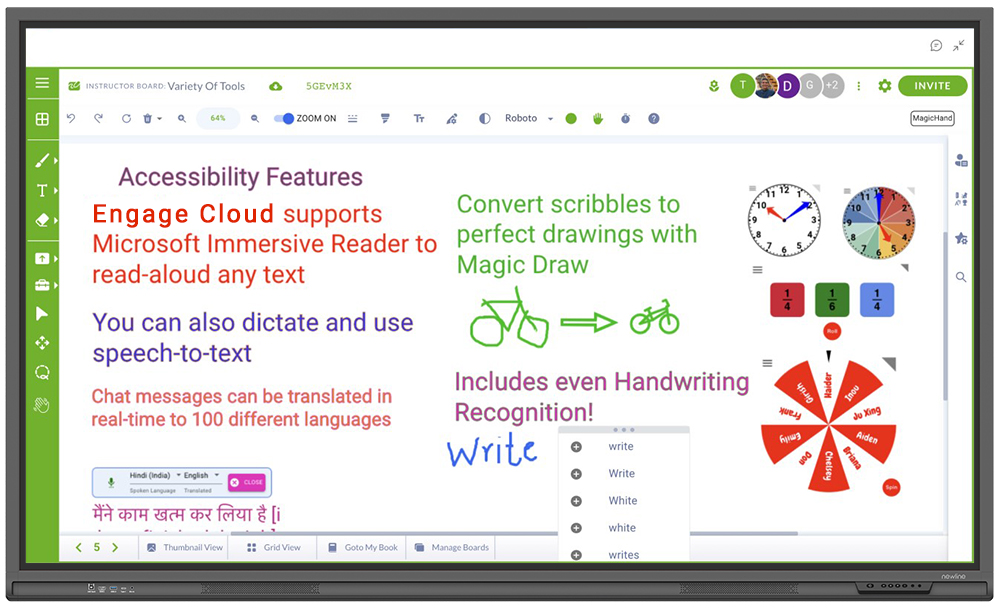 Read Aloud & Multilingual Engagement!
Experience the future of education with Newline Engage Cloud. Effortlessly read aloud any element on the board, be it PDF documents or other content, adjusting the pace to suit your needs. Bridge language barriers by conversing simultaneously with multiple learners in their preferred languages, fostering an all-encompassing learning environment.
Enhance student autonomy by recording instructions and embedding audio on the board, allowing learners to tackle assignments at their own speed. Educators can transcribe speech into a language familiar to learners, seamlessly integrating the transcription into their digital notebooks. Newline Engage Cloud redefines the classroom experience, enabling accessible and personalized education for all.
Unleash the power of handwriting with Newline Engage Cloud. Effortlessly convert your writing into digitized text in multiple languages. Hone your skills using grids designed for different writing styles, whether it's handwriting, college lined, or primary lined, with intuitive text alignment features.
No matter where you're learning from, collaboration is seamless. Simply upload pen-and-paper work using a webcam, connecting with fellow learners across various locations. Elevate your writing experience with Newline Engage Cloud and chart your path to success!"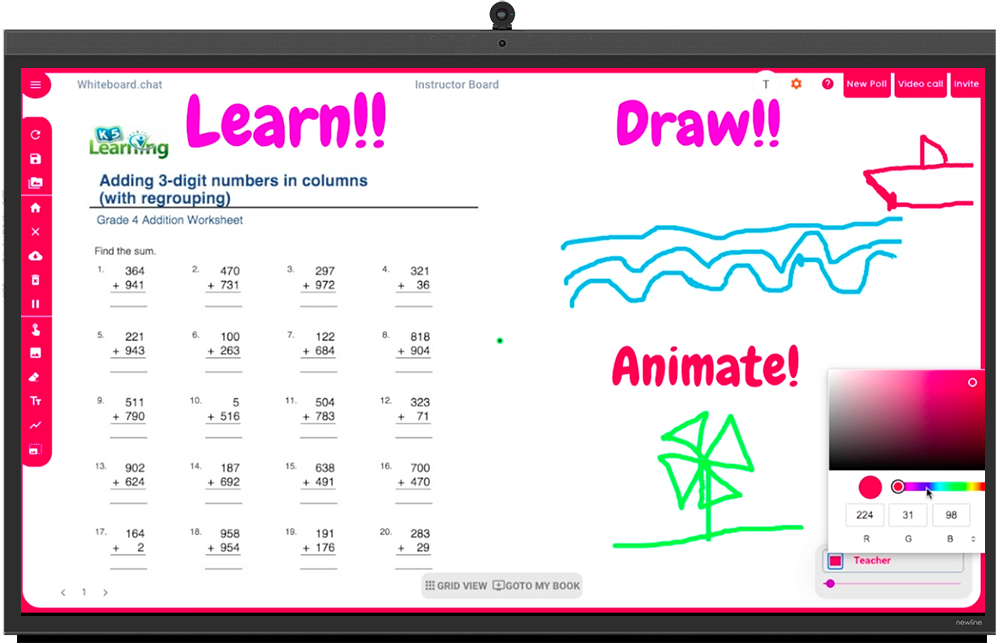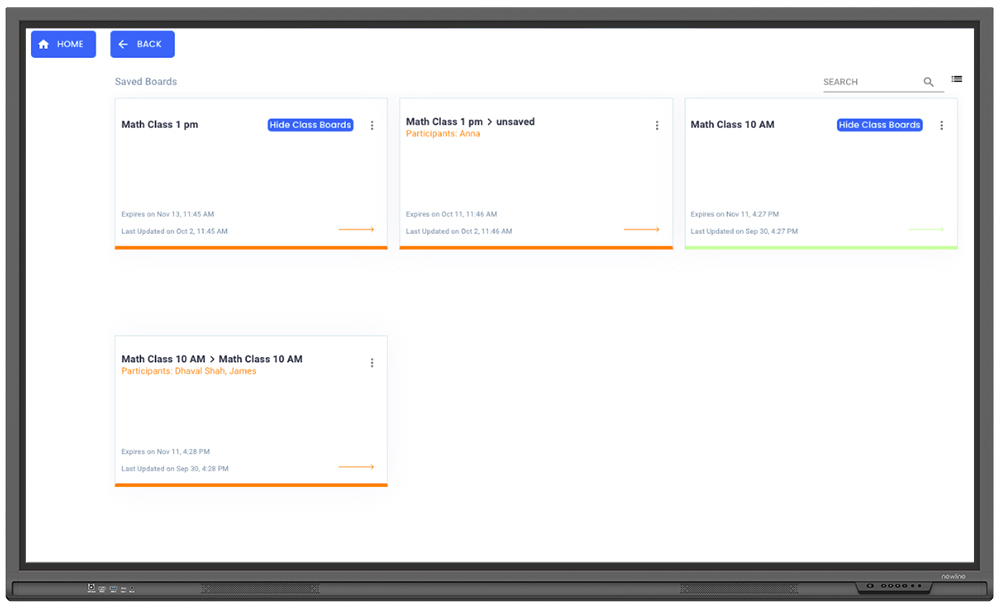 Enhance Learning Flexibility
To cater to diverse learners, Newline Engage Cloud offers students the flexibility to communicate their learning pace to the teacher. Students can indicate if they're keeping up or need the teacher to slow down. Moreover, students can download assignments as PDFs to work on them using traditional pen and paper. They can also photograph completed work and upload it onto the whiteboard. With Newline Engage Cloud, asynchronous self-paced learning is fully supported. Students can revisit their digital materials, continue working on assignments even after the class concludes, and notify the teacher when they're done.